THE HEART OF VIENNA
During this tour we will show you the centre of Vienna with its many attractions and historic buildings.
Sightseeing by bus or mini-bus – 3 hours
Rate € 240,- not incl. bus/admission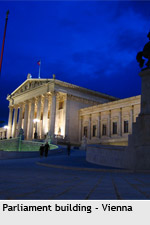 Ringstraße. We drive along the Ringstraße – a wide avenue with a lot of historic buildings which encircles the old city of Vienna. You will see: the Hofburg Palace (the Imperial Palace; centre of government of the Habsburg monarchy for centuries), the Kunsthistorisches Museum (Museum of Fine Arts – a collection of thousands of masterpieces), the Naturhistorisches Museum (Museum of Natural History), the Parliament Building , the Rathaus (Town Hall), the Burgtheater (National Theatre), the Votivkirche (a church and masterpiece in neo-gothic style), the Donaukanal (Danube Canal) and the Urania (Observatory).
Hunderwasserhaus and Danube. Then we proceed to the next attractions such as: the brightly painted Hunderwasser House (by the painter Friedensreich Hundertwasser, who was an exceptional personality), the Riesenrad (Giant Ferris Wheel), the Prater (one of Vienna's green lungs and an entertainment district) and the Danube. We cross the Reichsbrücke (one of the bridges over the Danube) and return to the famous Ringstrasse with its magnificent buildings.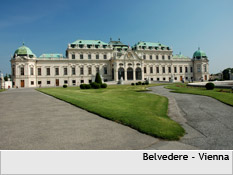 Belvedere and Art Nouveau. You will see: the former Ministry of War, the Postsparkasse (by Otto Wagner – an Austrian architect renowned for his Art Nouveau constructions), the Museum of Applied Arts, the Stadtpark (the City Park with the famous Johann Strauss monument) , the Belvedere (the famous summer residence of Prince Eugene); the Karlsplatz (a square with St Charles' Church); the Musikvereinssaal (the main concert hall where the famous Vienna New Year's Concert is held every year) and the Secession (another Art Nouveau treasure).
Vienna State Opera and Hotel Sacher. The following highlights are: the Vienna State Opera (one of the leading opera houses in the world), the splendid Hotel Sacher, the Albertina (formerly the palace of Empress Maria Theresia's favourite daughter – now a famous art museum with the largest and most valuable graphic collection in the world, with works such as Dürer's Hare).
City walks. This tour ends here. You have the opportunity to explore the city on your own, or join one of our guided walks through Vienna.