THE PALACES 1 –

THE MOST BEAUTIFUL BUILDINGS IN VIENNA
A stroll which shows Vienna from its best side: the shine and splendour of the aristocratic residences of the Baroque period near the Imperial Palace Hofburg. You will be amazed by the luxurious lifestyle of bygone days. The palaces are well preserved, carefully restored and were designed by famous architects such as: Hildebrandt, Fischer von Erlach, Martinelli, Carlone and Rossi.
City Walk – 2 hours
Rate € 180,- not incl. admission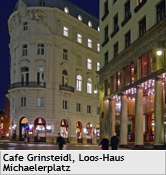 Herrengasse. Right next to the Imperial Palace (Hofburg), Herrengasse begins, where the nobles once lived. We will admire the Albertina (the palace of Maria Theresa's favourite daughter), the Palffy Palace (where the six year old Wolfgang Amadeus Mozart gave his first concert at Count Palffy's home), the Pallavicini Palace (home of Harry Lime in the film "The Third Man"), the legendary patisserie Demel, the Looshaus (this building's design once caused a scandal) and the Herberstein Palace (with the well-known Cafè Griensteidl – meeting place of the literati and intellectuals).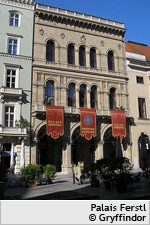 How billionaires lived. The Freyung is one of the most beautiful squares in the old city of Vienna, and reveals where the money was: in the Palais Daun-Kinsky (a superb baroque palace, which now belongs to the industrialist Karl Wlaschek), in the Palace Batthyany-Schönborn (former owner – the governor of Croatia: Count Batthyany), in the Palace Harrach (family-owned until recently) and in the Palace Ferstl (a historic palace from the 19th century – built for a Hungarian bank).
The centre of power.The last highlight of this tour: the Minoritenplatz (one of the oldest squares in Vienna) where a number of aristocratic families took up residence from 16th to 18th century with: the Federal Chancellery of the Republic of Austria (in a former palace of the Habsburgs), the Batthyany-Strattmann Palace, the Dietrichstein Palace (now the headquarters of the Ministry of Women), the Starhemberg Palace (now the headquarters of the Ministry of Education) and the Strattmann-Windischgraetz Palace.
The tour ends in front of the most magnificent building in this square: the Liechtenstein Palace which is still owned by Prince Hans Adam of Liechtenstein – Head of State of the Principality of Liechtenstein.